Disclosure: This post contains affiliate links.
The holidays are just around the corner and you're looking for the perfect gift for the traveler in your life. Maybe you're looking for gifts for someone traveling abroad. Maybe you're looking for unique travel gifts for women in your life (although many of these suggestions will work for men as well). Either way, as a frequent traveler with a home base, I've got you covered. This list includes over 50 suggestions at a variety of price points 'cause sadly we aren't all ballers. I even included suggestions for travelers who aren't currently traveling but want to continue to feed their wanderlust.
So, without further ado: the best travel gifts for travel lovers.
Low-Cost Gifts for Travel Lovers
I'm slightly ashamed to admit that it took me years to perfect my packing list. Before that, I was forever forgetting important things like my contacts case, pajamas, chargers…I even forgot to pack underwear once. SO embarrassing! Thank goodness I had easy access to a mall (and honestly, now I pack like 30 cause I'm mildly traumatized). Every traveler has some variation of a story where they've forgotten something important, so ease their minds and packing woes with this handy packing list. That way, they're guaranteed to bring the essentials with them every single time. Including underwear. Buy it here.
Cord Taco Organizers


To be honest, I had NO idea what these were called (or that they were even a thing) but 'cord taco' just seems so apt to describe these. Anyway, nowadays, most travelers travel with a minimum of three cords: headphones, a phone charger, and a tablet/laptop charger. If you're me, you're also lugging around a camera charger, Kindle charger, hard drive charger, and who knows what else. Honestly, I travel looking like I robbed a Best Buy. SO in order for the cords to not turn into a jumbled mess, some clever person invented cord tacos. They're so much better than rubber bands, speaking from first-hand experience. Buy them here.
Bluetooth Smartphone Camera Remote Control 

Imma let you in on a little secret: solo travelers don't have a secret plus one taking their photos for them nor do we rely on strangers to snap photos while we twirl around in colorful dresses. The secret to good solo photography? A tripod and remote control, like this one! This is an excellent gift not just for solo travelers who don't want 1000 selfies in their camera roll, but also for couples and groups that want a few photos with everyone in them. It's pocket-sized too, making it super handy to throw in a daypack. Buy it here.
An Ultra-Comfy Sleep Mask


I remember the first time a friend of mine whipped one of these out on a flight. I promptly snickered because they look like mini bras (please don't judge my childish sense of humor too hard). But apparently, this is the best sleep mask design for both comfort and to keep all the light away. Who would have thought? Not me when I first saw it, but now I'm a sheepish owner of one. I have a hard time sleeping on planes and this mask really helps. I highly recommend it for the traveler in your life – especially for those that are often on long-haul flights! Buy it here.
Camera phones are seriously impressive nowadays and pretty much everyone I know (except other bloggers) travels exclusively with their phone as a means of photography. These lenses can seriously upgrade those #phoneonly shots with the macro lens, wide-angle lens, and fisheye lens. This isn't just a great gift for travelers – photographers, content creators and more will have a blast with these. Buy it here.
Portable Luggage Scale


Raise your hand if you've ever been victimized by your overweight luggage *raises hand shamefully.* Can we talk about how this always happens when I'm on my way home from a trip, not when I'm leaving Los Angeles? It's probably due to my tendency to buy foodie souvenirs for myself (and occasionally other people). Once I started traveling with this little scale, I never have to worry about overweight baggage. Now I just throw my heavy things in my carry-on because they rarely weigh those! #LifeHack. Anyway, this little guy has saved me the awkward embarrassment of removing things from my bag at the check-in counter and maybe helped me gain a little bit of muscle while weighing my bags? Maybe? No? Okay, fine. Buy it here.
Sometimes, you want to take photos underwater. Sometimes, you just want to make sure your phone stays dry when you're at the beach/pool/sailing on a boat. I'm also that person that's reaaaally skeptical when a phone company tells me a phone is waterproof. Whatever the case may be (get it?), these are a handy addition to help keep your not-so-waterproof electronics in top shape. Buy it here.
I'm not sure why, but every time I use this in another country, people freak out about how amazing it is. To me, it's just a portable plug that happens to work everywhere but to others, it's gold. Apparently, these are really expensive in Australia (someone told me they cost over $50!) and some countries don't sell them at all. So, I guess it makes sense that people love this adapter so much. I just hate having to figure out which plug I'm supposed to bring with me for my ridiculous number of electronics and this is guaranteed to make any traveler's life easier. Convenience FTW. Buy it here.
I'm personally super low-maintenance when it comes to makeup (read: lazy AF) but I have plenty of friends and family members whose makeup is always flawless, even while traveling. These little guys are a handy travel gift that anyone who wears makeup would appreciate. Not only are they environmentally friendly (YAY), but they're also small and portable. Win all around! Buy them here.
Speaking of environmental friendliness, I think we can all agree to the fact that single-use plastic is terrible for the environment and the least we can do is not use it at home OR on the road. Right? Cool. Anyway, so LifeStraw. This filtration straw removes 99.999999% of waterborne bacteria and parasites, meaning any body of water can be your new water bottle. This is definitely a better gift for a hiker or camper rather than someone who does more urban travel (in which case, my absolute favorite filtered water bottle will suffice). Nonetheless, clean water is always a good thing. So is reducing plastic consumption. Buy it here.
I wasn't kidding when I told you guys I travel like I just robbed Best Buy, but apparently, there's a whole tribe of people out there who do the same. It certainly explains why this electronics organizer is so popular. It comes in two sizes and can hold pretty much every electronic the average travel needs and some: cords, tablets, small cameras, etc. For the traveler that travels with more than just a couple of cords here and there, this is the perfect gift to help them keep their electronics in order. Buy it here.
Quick-dry Microfiber Towel


There are towels. And then there are microfiber towels. What makes microfiber towels the perfect travel gift is their ability to dry super fast. They're also incredibly lightweight and absorbent and work well for the beach, camping, or even just backpacking. I'm not a yogi by any means, but I have even used mine as a makeshift yoga mat to do some stretches while traveling. They're also a godsend if you have curly hair and don't straighten it for trips. Honestly, microfiber towels are so versatile, I don't know why more people don't travel with them! Buy them here.
Custom Monogrammed Passport Holder
What's a traveler's most prized possession? Their passport, of course! There's no better way to keep it looking shiny and pretty than with a passport cover. More specifically, a customized passport cover from Etsy. You can get the cover in a bunch of different colors, font designs, and more and it's a gift that's guaranteed to be used. Buy it here.
Can we talk about the fact that planes are always set to arctic tundra temperatures, no matter what the season? I am 100% that person rolling onto the plane in full-on winter wear even if it's July. This portable blanket is awesome because it doubles as a pillow if the plane temperature suits your liking. Plus, actual plane blankets are really gross. Just google how often they wash them and you'll probably buy one of these both for yourself AND the traveler in your life. I wish I could say this lack of cleanliness has changed in recent times, but no :'(. So do yourself a favor and get the blanket.
Selfie Stick Tripod with Bluetooth Remote


When it comes to taking proper photos of yourself for the 'gram, you have two options: slightly extra, or full-blown production. Buying the Bluetooth remote I mentioned earlier is the slightly extra option, but I'm not ashamed to say that I am a proud owner of a selfie stick tripod…and so are most content creators I know. Honestly, sometimes strangers just don't take good photos of you and I've found this to be the best way to remedy this. If the traveler you're buying a gift for is big into photography (especially if they travel solo), this is the best gift you can get them! Buy it here.
The ironic thing about sleeping bag liners/cocoons is that they're meant to help you feel luxurious when you're budget traveling – namely when you're staying at a hostel or camping (I used this on the Inca Trail!). I'm not a germaphobe, but I've definitely accidentally stayed in hostels with some questionable linens. This liner helps me pretend like I'm staying at a luxurious hotel and also keeps any sheets or blankets from touching my actual body. I've also used these while camping as well because it makes me feel way better about that whole sleeping-in-nature thing. Either way, this is the perfect gift that the backpacker in your life might not think they need but will 100% appreciate. Get one here.
Mini Travel Iron


I have a rule: if it needs ironing, it's not coming in my suitcase (with the exception of the rare occasions where I've traveled for formal conferences). However, I know that not everyone lives by this philosophy, which is why this travel iron is a super convenient gift. It's small enough to easily fit in a suitcase and it's dual voltage, so you can use it in any country. This is a great gift for business travelers who need to ensure their clothing is crisp at all times. Buy it here.
Collapsible Water Bottle


I'm a huuuuuuge fan of collapsible water bottles for many reasons. Firstly, single-use plastic water bottles are really bad for the environment AND it's super expensive to keep buying them when on the road. Secondly, these are incredibly handy at airports. Most airports have drinking fountains or water bottle filling stations you can use for free instead of spending $5 for a little water bottle. Lastly, because these bottles are collapsible, they take up almost no room in a bag when they're empty. If I'm not traveling with my filtering water bottle for some reason, this is my go-to. It's a handy addition to any traveler's suitcase. Get it here.
Mid-Range Gifts for Travel Lovers
One of my favorite souvenirs to bring home from my travels is local spices and sauces. Back before Amazon was a thing, I brought home a dozen or so bottles of Nando's Peri-Peri Sauce from the UK because I was obsessed with it. This collection of spices is perfect for foodie travelers or cooking enthusiasts in general. Each spice comes from a different country and I can personally vouch for a lot of these mixes…they all have an explosion of flavor! The coolest part is that the spice canisters are small enough to come on the road – useful when visiting countries where the food could use an extra kick. Get the box here.
Not only is this speaker awesome and affordable, but it also helps travelers make friends while on the road! How, might you ask? Impromptu dance parties, long bus rides (especially during group trips), hanging out at the hostel lobby…you name it. The sound quality on this speaker is as impressive as the battery life. Plus, it's portable, making it the perfect gift for travelers. Buy one here.
I know I'm a tad ridiculous for owning a regular tripod AND a Gorilla Pod, but no shame. This tripod is AWESOME. It's super handy to attach your camera to trees, railings, you name it. It can also be used as a pseudo selfie stick or regular tripod as well (but it's way more portable). It comes in a variety of sizes depending on the camera you need it for too. Perfect for solo travelers and for getting that shot from juuust the right angle. Get one here.
Personalized Travel Journal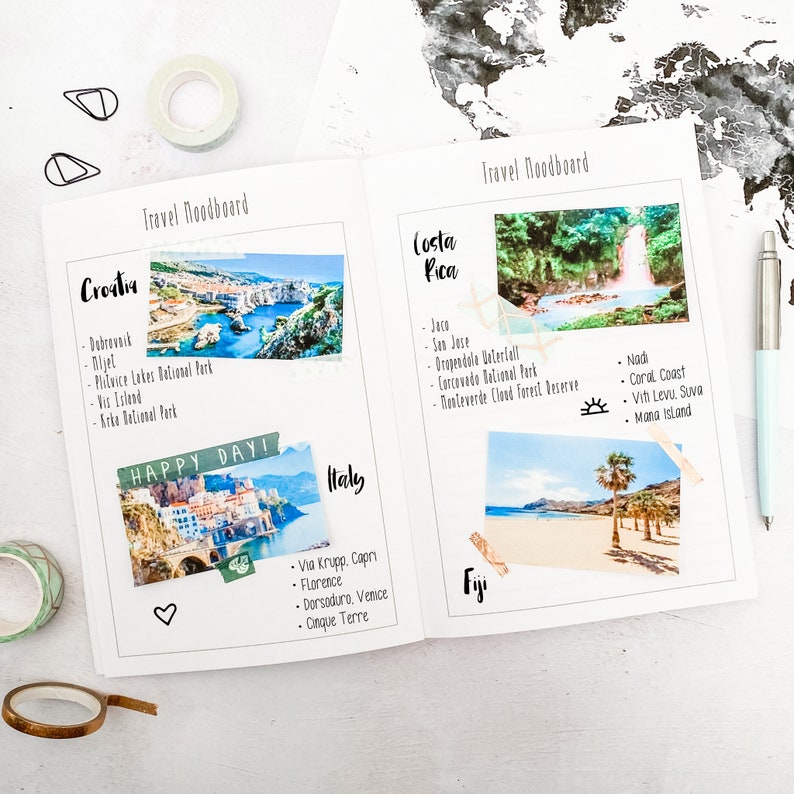 There's something incredibly satisfying about writing things down on paper, despite the availability of all those note-taking apps. Most travelers I know carry a journal or notebook of some sort with them on the road, so why not gift a personalized one to your favorite traveler? There are tons of gorgeous ones on Etsy but I like this one, personally.
TRTL Neck Pillow
When these neck pillows first launched, I was a tad skeptical. Could this design *really* be better than traditional neck pillows? The answer is yes! These pillows keep your head from nodding off while sleeping and they take up way less room than a traditional neck pillow. Now it's the only one I use. I know there are a lot of weird travel pillow designs out there but this is definitely one of the better ones and a necessity for getting some sleep on planes. Get one here.
Although I haven't personally been pickpocketed (knock on wood) I have plenty of friends who have…enough so that I'm paranoid of wandering through new cities with a backpack. What if someone opens my backpack without me noticing? Enter: the anti-theft backpack that has zippers on the back of the backpack, rather than the front. GENIUS. It's also water-resistant and has useful features like a USB charging cable and hidden pockets. It's a stylish and functional gift for both male and female travelers. Get one here.
Secret Pocket Infinity Scarf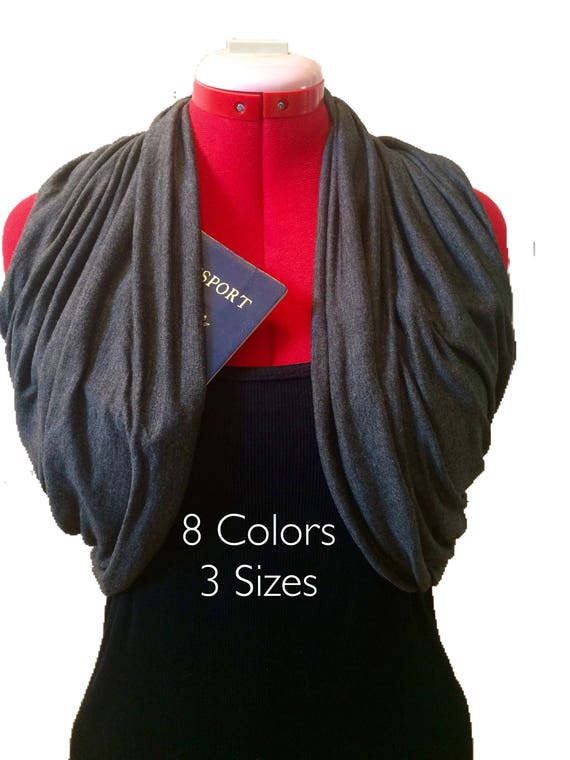 Speaking of getting the best of pickpockets, this is another one of my favorite travel items. It's a circle scarf that has a giant hidden pocket where you can stick your passport, credit cards, cash, and even your phone. It comes in 10 colors and various lengths and can be worn as a shawl, shrug, or something called a 'snood' which is some sort of headcover. Idk, I'm not that stylish and just wear scarves like scarves. I am stylish enough to say no to fanny packs and money belts though, so this is an excellent alternative. Purchase it here.
I don't think I need to convince anyone why a power bank is the best gift ever (for those travelers that don't own one of course) but I'll go ahead and do so just in case. We all use and abuse our phones incessantly (especially while traveling) and even the best phones out there won't necessarily survive 12+ hours of navigating, taking photos, and Instagramming. I like this one because it's lightweight and small but holds multiple charges in case you don't remember to charge it daily. I never travel without it. Get a power bank here.
Compression Packing Cubes


Before I bought packing cubes, I thought they were for people who didn't know how to pack. I ate my words as soon as I bought these compressible ones. Not only do they make packing way more organized but they also help save space so you can overpack to your heart's desire (kiddinggggg, packing light is better). I used to do this thing where I'd open my suitcase to find one item and before I knew it, I'd accidentally unpacked my stuff everywhere. Now, I locate specific cubes for items so I don't have to unpack my whole suitcase to find a pair of socks. That's my spiel on why people should buy/use packing cubes. Thanks for coming to my Ted Talk, you can get the packing cubes here.
We already have the "find my phone" feature on our phones but what if we had this for ALL our important things like keys, tablets, wallets, cameras, and all that other good stuff? Tile lets you do just that. This Bluetooth tracker can be attached to keys or slipped into your wallet so you can 'call' your items and never lose them again. Plus, if your item goes missing, the Tile community of users can help you find it. The Tile lasts a full year without needing to be charged (then you have to replace it) but they also have options with 3-year batteries too! Get a Tile (or 3) here.
While yoga mats are great for exercise at home, they're a total pain to carry on the road due to their lack of foldability (I'm really surprised that's a word). But a foldable yoga mat? Yes, please! This is awesome for exercising on the road since most travelers don't always have access to a gym. It also doubles as a picnic blanket for post-exercise hangouts. Plus it's lightweight, which is always a win. Purchase one for the yogi in your life here.
Okay. I know that this espresso machine is 100% not a necessity for travel by any means. But guys, have you tasted instant coffee? It's so awful words can't describe it. Yes, you can go to a coffee shop for a coffee fix but some countries don't drink much coffee so the most readily available options are instant or a $5 Starbucks (ew). I admit I'm a snob about coffee but I know I'm not the only one. Gift the traveling coffee snob in your life this and they'll love you forever. It's hand-operated (no electricity needed) and weighs less than a pound so you can use it even when you don't have access to a nearby coffee shop. Get one here.
Slight-Splurge Gifts for Travel Lovers 
There's a reason this backpack is all the rage. It's stylish AF and small enough to be carried around all day while on the road. It's incredibly high quality and has a laptop sleeve, an internal media pocket, and contoured shoulder straps. Très chic! Get one here.
As an avid reader and lover of books, I used to be one of those people who refused to buy a Kindle on principle. I like the feel of a real book. While that's still true, I've owned my Kindle for six years now and never travel without it. Real books are heavy and take up a lot of room whereas I can have access to my entire collection on my Kindle (plus my local library's, which is awesome). Kindles are specially made so you can still read if there's glare on the screen too, which makes reading on them 10x better than reading on a phone or tablet. Plus, most libraries now offer the ability to check out e-books for free so pretty much all books are accessible at your fingertips, wherever you go. Get one for the bookworm in your life here.
Millennials love all things retro(ish) and cute, which explains why this Instax camera is so popular. I should know, I have one. While I love Instagram as much as the next person (jk, it's really a love-hate relationship), there's nothing like having actual, printed photos instead of memories that live on the internet. This camera is small and stylish and takes fun polaroid photos that print instantly, like the good old days. It also comes in a variety of colors, if ice blue isn't your favorite. I got one for my birthday a few years back and am low-key obsessed. Get one here.
I rarely think a gift is suitable for everyone but this is a fun gift that's suitable for everyone. Well, for anyone interested in learning about their ancestry via DNA testing, that is. Here's how it works: 23andMe sends you an ancestry kit, which is a fancy way of saying a vial that you spit in. Once you send it in, they analyze the results from your saliva and send a comprehensive report broken down by region. I found out that I'm 100% African but the country mix was not what I expected! It's really fun to see how historical migration likely influenced your genetics. Or maybe that's just a nerdy thing I think is cool. ANYWAY. It's definitely a fun gift and you can purchase the kit here.
Away Luggage

I don't usually follow big brand hype but my Away luggage has proven itself over and over again. I used to purchase whatever suitcases were cheapest but found that most would only last me 2-3 trips before ripping, losing a wheel, or breaking a zipper. On the other hand, my Away carry-on alone has been with me to 10+ countries on long-haul flights and it still looks brand new. Same with the large Away suitcase for trips where I'm not traveling carry-on only. If you want an award as the best gift-giver ever, you can also gift a 2 or 3 piece set. Browse Away luggage here.
Gorgeous Hand-crafted Wooden Map
Just because you can't travel all-year round doesn't mean you shouldn't be inspired by the world on a daily basis. What better way than with a hand-crafted wooden map of the world?
I actually own one of Enjoy the Wood's maps and love it. Not only is it absolutely gorgeous and made of natural materials, but it also designated holes in it, so you can pin where you've been without ruining the map itself. You can also easily get the map customized if you'd like.
Another bonus? The company is family-owned by a Ukrainian couple. What started off as an idea to decorate an empty office turned into an entire line of hand-crafted wooden products.
Get your own map here
 and check out all their gorgeous products 
here
.
Tinggly Travel Experiences
If you have no clue what to get the travel lover in your life, I highly recommend gifting a travel experience from Tinggly. Basically, you're purchasing a travel experience for a set price then the traveler can turn around and choose exactly which experience they'd like to use your gift for, based on the Tinggly experiences available in that category. Tinggly offers experiences all around the world, so the traveler can use it wherever he/she is going next. Think of it as a travel experience gift card – so thoughtful! You can purchase it here.
Ballin' Gifts for Travel Lovers
Gimbal Stabilizer 


Gimbal is such a weird name, right? Or maybe that's just me. Anyway, gimbals help keep your phone/camera super stable (even if you have shaky hands!) so it doesn't look you're filming during an earthquake. How cool is that? If the traveler in your life takes lots of videos and/or vlogs, they definitely need a gimbal. Buy one here.
You know what terrifies me the most? It's not bears or plane crashes or anything that most normal people fear. It's that one day my computer and my hard drive and my three cloud backups will all crash and I'll lose years worth of photos and videos. Yes, it's unlikely, but most fears aren't exactly rational. I know that most travelers would be, at the very least, sad (if not devastated) by losing their data, which is why a portable external hard drive is a necessity for travelers. I particularly like this one because it has a rubbery case around the outside, which helps protect the drive from fatal drops and bumps. Failed hard drives are the saddest. Buy one here.
Amazing Noise-Cancelling Headphones

I mean, do I really need to sell you on Bose headphones? All I have to say is they're THE BEST. They keep noise out like nobody's business which means you no longer have to worry about crying babies on flights, loud phone talkers on public transport (just…why?), and just general noisy nuisances. I was once upgraded to business class on Qatar Airways (best flight ever) and they had these headphones at every seat (but the wired kind so nobody would take them obvs). These headphones made watching movies on the plane feel like a movie theater experience (the reclining chairs helped too). They're totally splurge-worthy. Get them here.
GoPro Adventure Camera

GoPro has seriously upped their game with cameras over the last few years. I'm talking incredibly smooth and high-quality video and amazing accessories that let you capture epic content. The camera is waterproof without a case, has voice control, time-lapse, and more. It's also small and portable, so it's great for adventure travelers and backpackers alike. Get it on GoPro's website (they have promotional perks!) or on Amazon.
Drone for Epic Photography


Serious (or aspiring) photographers and videographers can majorly up their photography game with a drone. There are some truly breathtaking photos online shot by drones. In fact, I'm pretty sure it's impossible to take a bad drone shot. In terms of how well they travel, that depends entirely on the country. Lots of travel bloggers use them so the restrictions can't be too bad, but of course, users have to check the laws for each country. I'd buy one for myself if I weren't so terrified of crashing it, tbh. Buy this drone here.
I have the older version of this camera that I bought a few years ago and I'm still obsessed. It's as light as a standard digital camera but comes equipped with a fancy Carl Zeiss lens, which means it takes AMAZING photos. Photography is not my main focus so I'll never lug around a big and heavy DSLR, but I need a quality camera for this blog. For travelers that want a high-quality, portable camera with lots of manual and automatic features, I highly recommend this one. Check it out here.
Gifts for Wanderlust Inspiration
Just because your favorite traveler isn't traveling right now, doesn't mean they aren't thinking about it or planning their next trips. These fun gifts are great for those who aren't currently on the road.
Travel-Inspired Jewelry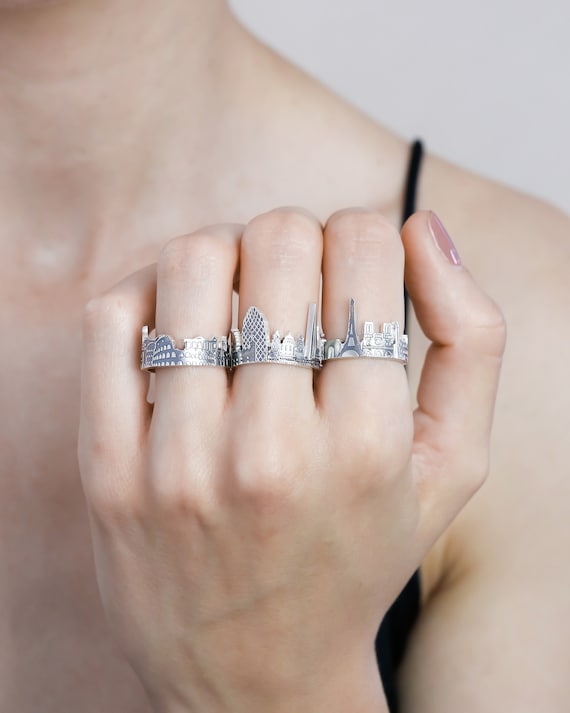 There are tons of beautiful wanderlusty jewelry pieces on Etsy for those who want a keepsake or memory of their favorite travel adventures. I'm personally a fan of these custom cityscape rings, this globe necklace, and these GPS coordinate rings. Check out all the gorgeous travel jewelry options here.
I don't know about anyone else but the majority of my room decor is travel-related…because apparently, I don't get enough of travel when I'm on the road for half the year. *Shrug.* Anyway, if you're looking for some seriously inspiring travel prints, check out the entire collection here. Here are a few of my favorites: this 3-photo cityscape collection, this 6-print of photos, and this colorful push-pin map.
Personalized Luggage Tags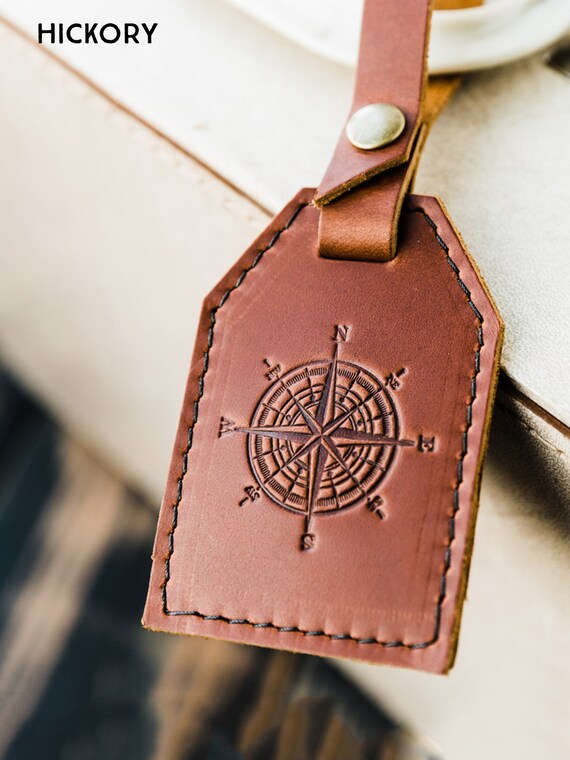 People do tons of crazy things to their bags to make sure they recognize them at airports. I've seen ribbons, paint splotches, even a bag with a lady's face on it. But what's wrong with a more subtle approach? These luggage tags are an inconspicuous way to identify bags and they're chic AF. Nobody's going to pick up a bag with someone else's name on the luggage tag. Unless they're trying to steal it, in which case…I have no recommendations as I'd probably just panic. Purchase custom luggage tags here.
Help the traveler in your life save for their next adventure with this customized travel fund jar! It's a fun way to keep loose change in one place (do people use cash anymore?) or just get inspired to save for an upcoming trip. Plus, personalized gifts are always a win in my book. Buy it here.
There's nothing more satisfying as a traveler than coming home from my adventures and scratching a country (or a few) off my map. It's a fun way to keep track of travel adventures and it makes for great room decor. Before I bought the wooden map I listed earlier, I had one of these. *Cue nostalagic travel feels.* Get one here.
This is yet another way to display wonderful travel memories. Photos from the handy Instax Camera, photos printed online or even postcards would all look great hanging from this display. Maybe it'll encourage the gift receiver to actually go print some photos! It took me a solid two years to get around to printing mine, but now they're all hanging in a DIY version of the above and they make me so happy. Buy it here.
Yes, it's perfectly okay to make every single item in your house travel-themed…according to me. These vintage map coasters are a gorgeous addition to any household and they basically match with everything. Enough said. Get them here.
Travel-Themed Clothing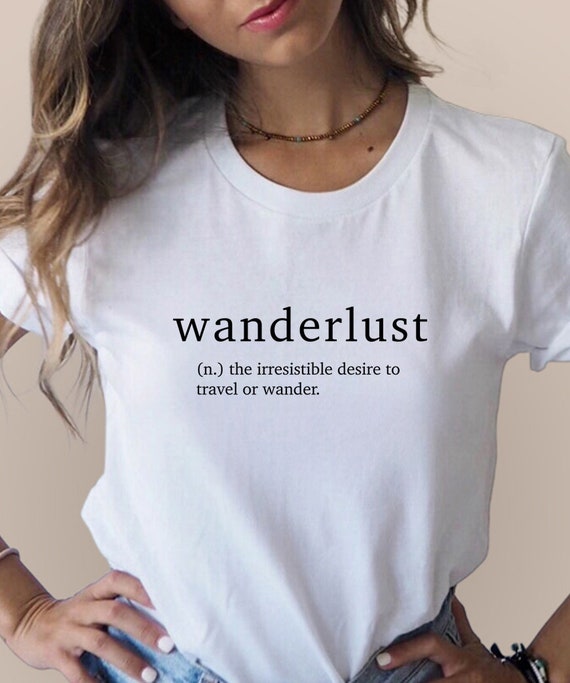 There's a huuuuuge selection of ultra-cute travel-themed clothing online. Everything from this shirt that says hello in a bunch of languages to this wanderlust T. Have a blast browsing all your options here.
Customizable Globes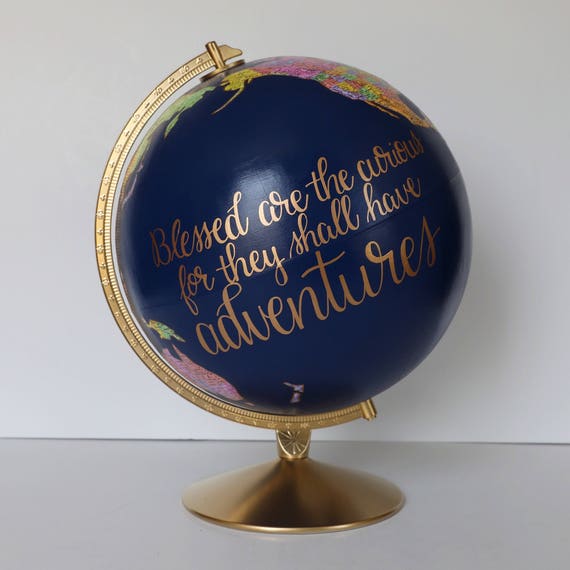 You know what is really underrated? Globes. Lots of people seem to have a map of some kind, but my philosophy is porque no los dos? I have one of these gorgeous globes in my room that says "adventure awaits" to remind me that….adventure awaits, ha. These ones are especially gorgeous because they're handmade and customizable. They also come with pins for people who want to pin where they've been. Or if you're me, you can spin it to choose your next destination. That's fun too. Get a globe here.
So there you have it! Fifty-something gift ideas for literally every kind of traveler in your life. Now if you'll excuse me, I have some shopping of my own to do. Writing this list inspired me to treat myself.
Tell me: which of these would you most want as a gift? Share in the comments below!
Like this post? Pin it and save it for later!